I *heart* bangs. They're such a great way to make you look and feel like a whole new person.
I've been told that my face shape and stick straight hair don't really go well with bangs, but I keep giving it a try. Perhaps because so many others look so fabulous with bangs.
See exhibit A: Anne Hathaway.
(Picture by George Pimentel.)
Exhibit B: Zooey Deschanel. (Picture from
cbc.ca
)
Exhibit C: Anna Ellison from
Charm City Cakes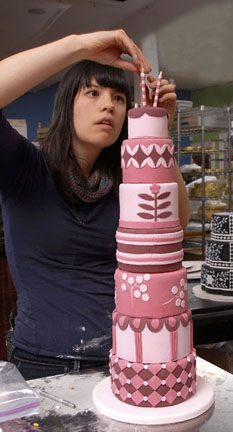 Since my bob has completely grown out, it was time to try the bangs again. Yes, the stick straight hair, small eyes, and small forehead are not ideal for the Anne-Hathaway-bangs, but I will always *heart* bangs, even when they're only semi-fabulous on me. And I didn't cut my hair "boy short," so Dustin is elated.